I'm on the bus staring out of the window as we make our way to Tel Aviv from Haifa. We just rode up to the top of Mt. Giboa, where we did some cliff rappelling and extreme jeep driving.
We wake up at 7 AM and have breakfast. The same assortment of Israeli salads as before–delish. There isn't any hummus and they have some sad attempt at French Toast. It's like they've run out of eggs and cinnamon. It's like they melted butter in a pan and cooked the bread in it.
I make a cheese and bun sandwich for the road and we load up the bus and drive to the top of Mt. Giboa — which some of us had hiked the day before with varying levels of hangover.
There's some activities planned: A team building exercise, rappelling, and a Jeep expedition. All the events are in a rotation, and we get split into three groups.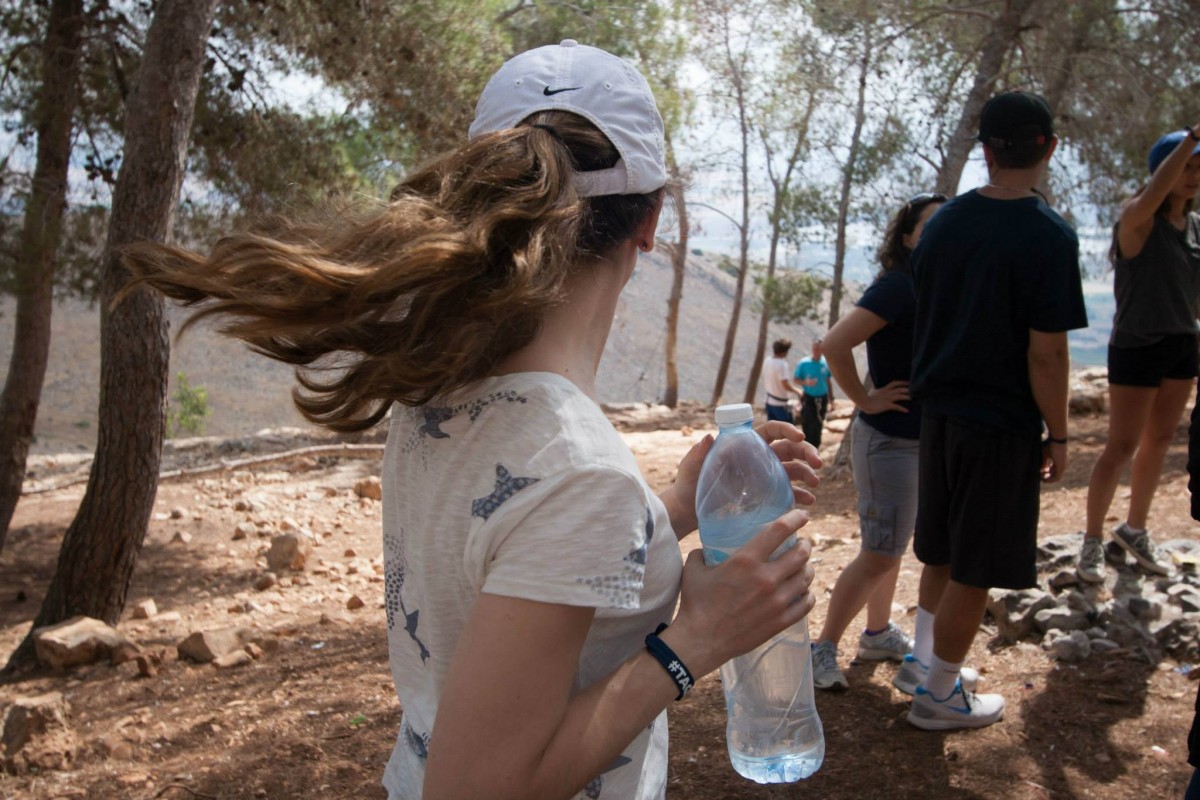 Team building is pretty neat, we do some funky rope stuff. There's this long wooden pole with three groups of five ropes radiating from it at different points. We have to keep the stick vertical but off the ground and then guide it through a maze laid out on the ground. It was extremely difficult as you have three different string bunches of three different lengths and 20 people pulling in different directions. We end up doing it in 120 seconds–beating those New Jersey fuckers on their best try. Cali power.
Next exercise: We have to keep a thick rope taut in a circle while Galea stands on the rope and walks across it while we hold it tight. It's really cool, no one really thought we would be able to do it. It seems like an insurmountable task until you actually do it.
Rappelling is dope. We get into harnesses and using a figure eight device we rappel down the side of a 40 foot cliff, bouncing off the rocks. Kelsi snaps photos of us while we go down–awesome.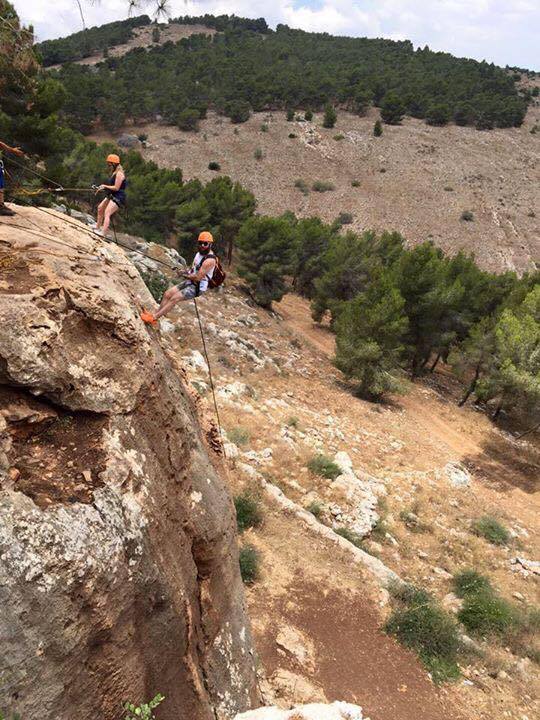 The Jeep expedition is fucking awesome. We briefly enter hostile territory–The West Bank. We stop and looked at this Arab City while our Jeep driver tells us how they live peacefully with Israelis through a series of deals. Someone else points out that the Israelis also control their water supply…interesting propaganda.
We ripped shit up in those jeeps! No way you could have this much fun in the USA. It was a little unsafe but real fun. That Karen chick from New York was complaining a little about the fact we were railing on New York people and then going rip-shit in the jeep. She was kind of protesting and then WHOOOOOOOOAAA here we go again! Everyone was yelling and throwing their arms up and having a great time and paying her complaints no mind. It was Kelci and Karen in the middle area, and then me, Devin, Zach and Omri in the back part of the truck.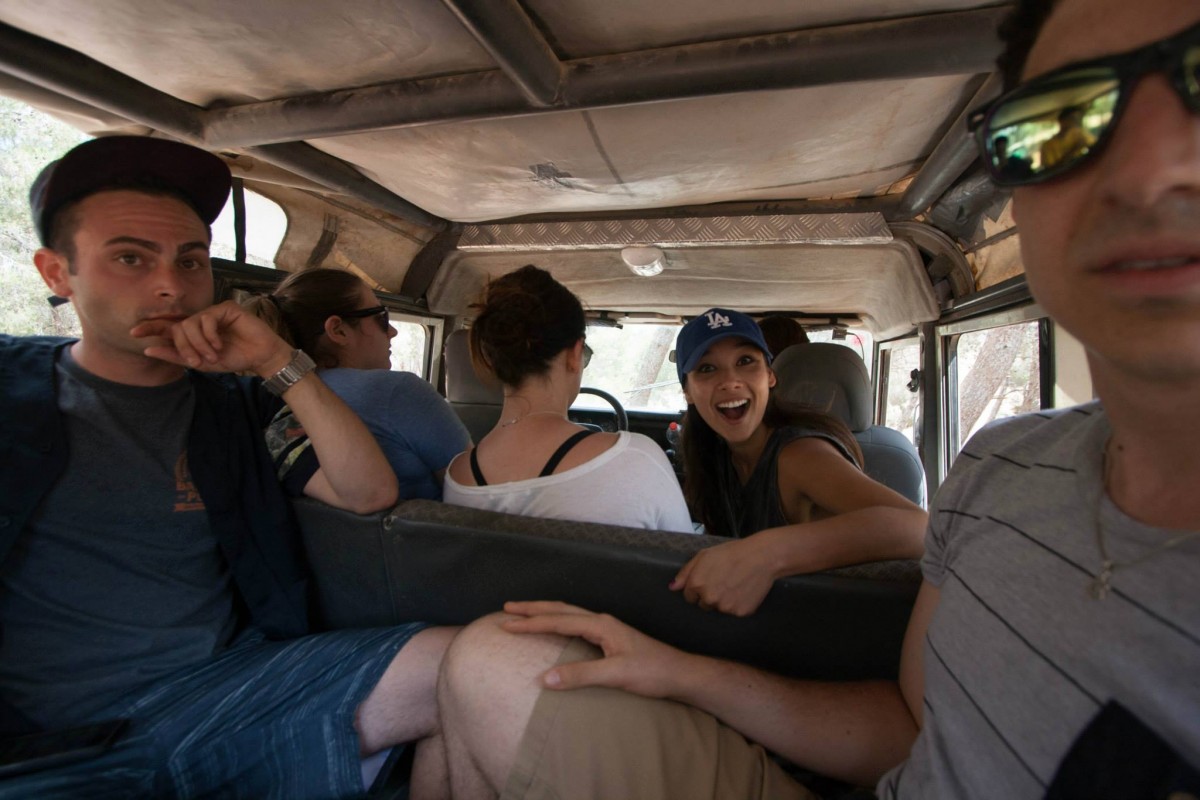 We hop in the bus after these three activities, ending our adrenaline filled morning. We load up the bus and head up to Haifa, which gives me some time to contemplate the mysteries of the universe and write in my journal.
They drop us off downtown and tell us we have an hour to grab some lunch. Devin, Andrew, and I have some sushi in a somewhat nice place in Haifa afterwards for lunch–it was nice.
Afterwards we go look at the Baha'i gardens. They were amazing to look at, and I was mesmerized for a while. People take lots of pictures and selfies. We could only go to one level of it, but it's tiered down for levels and levels of garden. Afterwards, we all gather in this amphitheater area.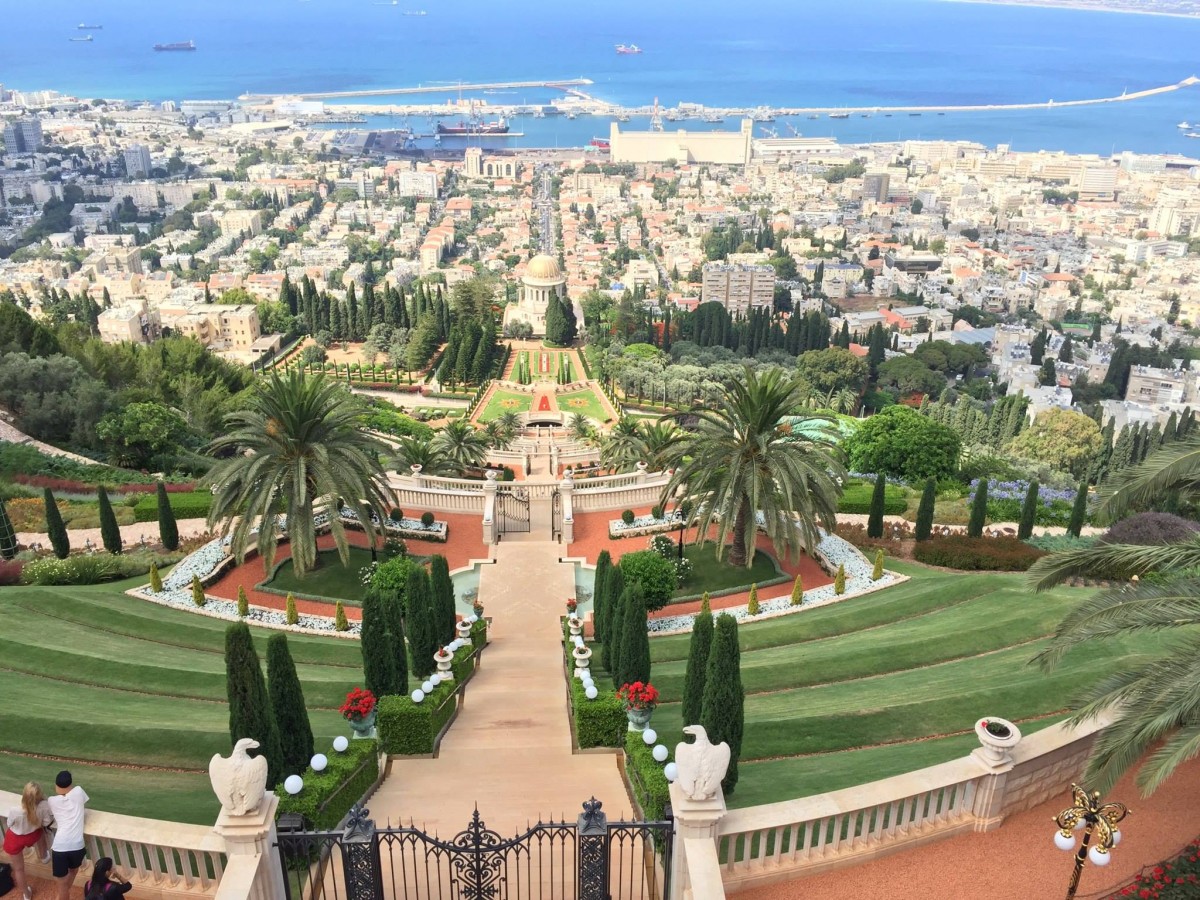 It turns out we have a surprise visitor! She's an old holocaust survivor who tells us of the concentration camp experience briefly, and then her refugee immigration to Israel. When her and her mother made it back from the concentration camp, there was someone else living in their house, and the neighbors looked surprised to see them. The neighbors only really say–'oh, we didn't think you were coming back'. A real symbol of the anti-semitism present. Their own neighbors didn't give a shit that they were alive, and in fact it was just an inconvenience for them.
Anyways, she was detained in Cyprus and then allowed entrance in 1948 when Israel became a state. We got a surprise twist when Mickey then revealed that this holocaust survivor was his own mother!