It's December 25th, 22:20. I'm sat in The Coffee House, having just grabbed a horrible glass of box wine on last call. A loud table of galley folks are playing game of Settlers of Catan. I was just in here earlier, also playing a round of Catan. We christened a brand new Star Trek edition of Catan, and I won. According to the rules, I'm to be referred to as the Admiral of Starfleet. Sweet.
I thought it would be nice to write this here, but it's actually super loud in here with the drunk Catan players—whatevs. There's a few more hours of Christmas left. It's kind of strange being down here, at the end of the world. My family sent me pictures of a cutout of my face that they've been bringing around town.
So this was a fun weekend. On December 23rd the oft-spoken of "VMF Party" went down…
* * *
It's almost quitting time, 1725. Why can't our boss let us leave already? No work is being done. Boom, 1730, time to roll out. I head straight to my room and then head down to grab some chow. I join the boys at the round table.
"Throw some mitts after dinner?" says Vinnie. We've been practicing our boxing with each other for the last two days—a nice little workout. "Sure" I say. We eat a not amazing dinner, and then I meet Vinnie down at the Gerbil Gym. They've got the boxing stuff down there.
Mitts are thrown, I'm feeling way too exhausted to be useful. I've been snacking on Christmas snacks for the last two days. Rachel's snack laden care package finally arrived. It wasn't on that LC-130 I saw flying in, but came in on an unexpected "Santa flight" that showed up on the 21st. 5000 more pounds of packages, and 800 pounds of freshies. Hell yeah.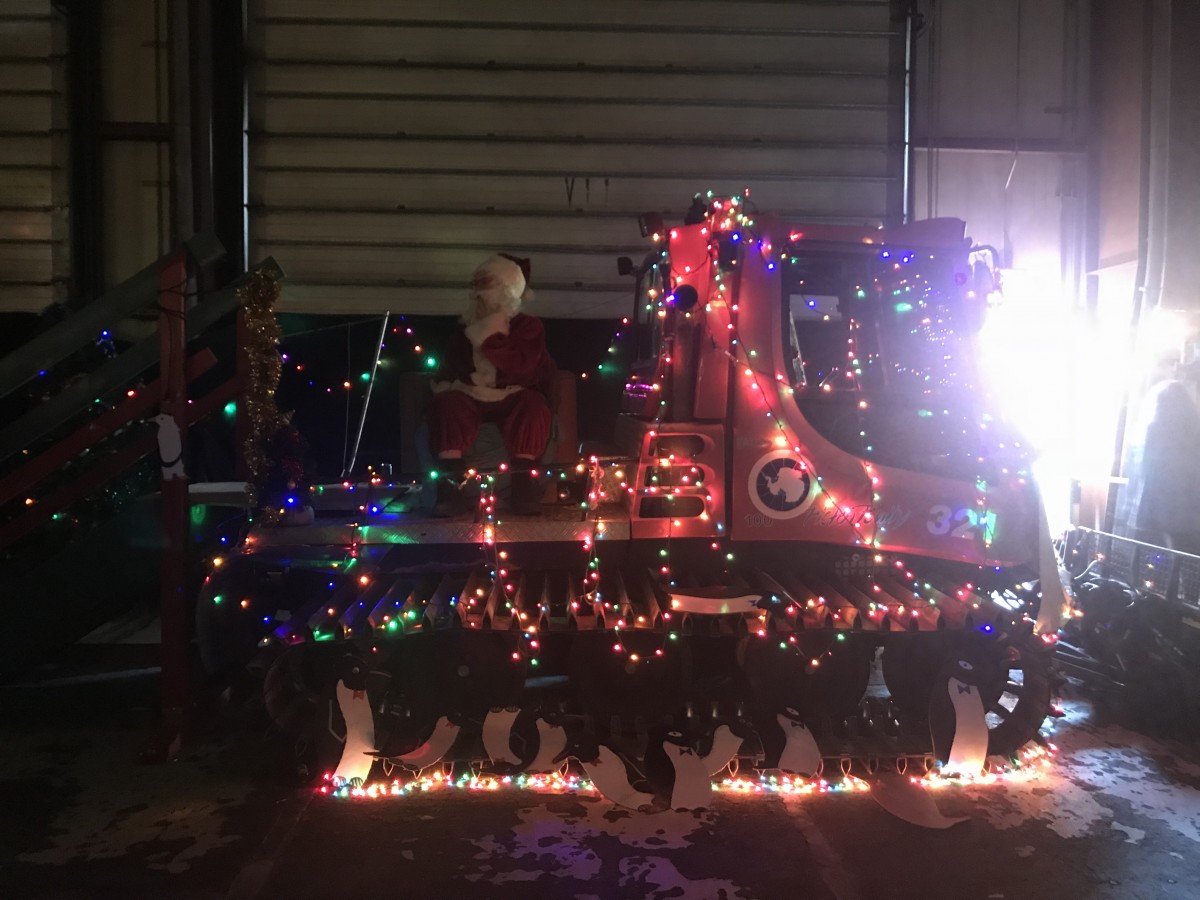 This package was loaded up with the good shit. Some of it was stuff I hadn't even heard of, but it was all fire. Cheez-its, goldfish, beef jerky, Trader Joe's Little Gingerbread Men, chocolate covered almonds, raw almonds, Hi-Chew, fun-sized CRUNCH bars to name a few highlights.
I wasn't even that hungry at dinner, I was just eating junk food—uncontrollably. So, I wasn't moving too fast during our boxing practice. We quickly called it quits at about 19:30 and then I retired to my room.
I took a nice long shower and got a nice outfit on for the night. Floral shirt, black Levi 511s. Kind of the same shit I always wear when I go out. I popped by the 'rumpus room' to meet the boys, their dorm room / lounge having become the go-to hub of our social circle.
Drank a little scrumpy, had a few beers. I had to catch up with everyone here. Before long, we're getting the train moving. We head over to the VMF party around 21:30, a bunch of guys opting not to wear a jacket. They're a little crazy. I wore a light wind-breaker and I was freezing on the walk over.
The Christmas Party was bitchin'. I nearly didn't recognize the place. There were Christmas decorations all over the giant garage. There was a santa picture area set up on the back of a Pisten Bully covered in Christmas lights, and I made sure to go and grab a picture with Santa. Jamie was being Santa, and when I sat on her lap she started vibrating. God damn dirty Santa.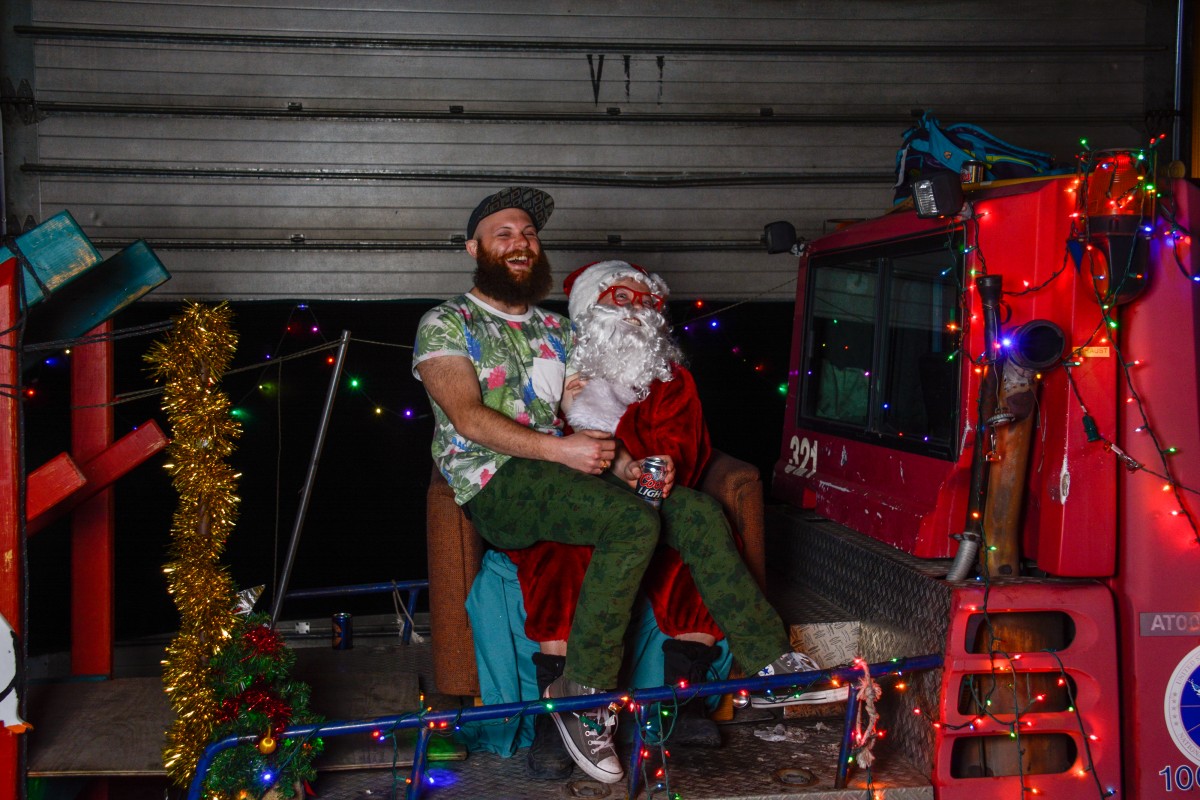 There was a slide-show on a projector with a bunch of photos people submitted. You just had to e-mail them in and they would get up there…I forgot to do this. Some were a little random, like pictures of peoples dogs. There's no dogs in Antarctica. The dance-floor was the first time I heard non-live music. Felt good. As much as I love live music, I needed a break.
A little wine-bar area was set up, with lots of cotton 'snow' everywhere and curtains and a stage with someone playing acoustic, etc. It was cool to have an alternative area.
Things were getting lit on the dance floor. There was a girl who had her face covered in golden body-paint—whoa, have fun with those sheets tomorrow. It was funny to watch like five guys trying to talk to one girl. One guy was dancing on the DFLOOR with a tight red dress on—ok pretty much moshing by himself. He was headbanging–as much as you can with a shaved head. He had the top of the dress off at one point and was kind of just gyrating his big pink belly around. He was definitely lit as fuck! Perhaps a little inappropriate for a Christmas party—this was much talked about the following day around town.
The party wrapped up around 01:00. I walked over with a big throng of people to Hut 10, but it was locked. So everyone converged into the Coffee House. I had a drink and just watched what we going on. A drunk girl was singing songs, much egged on by other people.
I think I went to bed around 03:00.