"I heard theres an Antarctica marathon" wrote I in an email to my soon-to-be boss. I had accepted the primary position and had lots of questions, this being just one of them. A few months later, and I'm down here on the ice tucking myself into bed, the marathon only hours away. Here's the story of that epic day.
The McMurdo Marathon happens every January on the Ross Ice Shelf just outside of McMurdo Station (USA) and Scott Base (NZ). It features a half, full, and ultra running marathon, and a bike and ski marathon as well.
The sound of the default iPhone alarm clock rouses me at 0700. I snooze about 10 minutes and then jump out of of bed, ready to get on with the marathon. The race itself starts at 0900, but we are to meet at the 'chalet' for 0830. I'm feeling disgusting and greasy, and it takes a lot to shake off a shower and go straight down to the galley. I need to load up on carbs now.
Granola and yoghurt, three times as much as I usually have. The granola here is the sweetest I've ever tasted. It can't taste like shit if you load it up with sugar, right? That's my strategy for making jungle juice. I join a large round table full of other runners, and we kind of chit chat about nothing in particular. I load up on some coffee, trying to get things 'moving'.
I head back upstairs to my room and get my running outfit on. I make out with teal Nike Frees, teal tights, and black and neon yellow shorts. I put a gray underamor long-sleeve shirt on and a San Franpsycho toque on my head. For my jacket I use a maroon Marmot windbreaker. I've got bluetooth headphones fully charged up, with a backup pair of Apple headphones should the wireless ones die.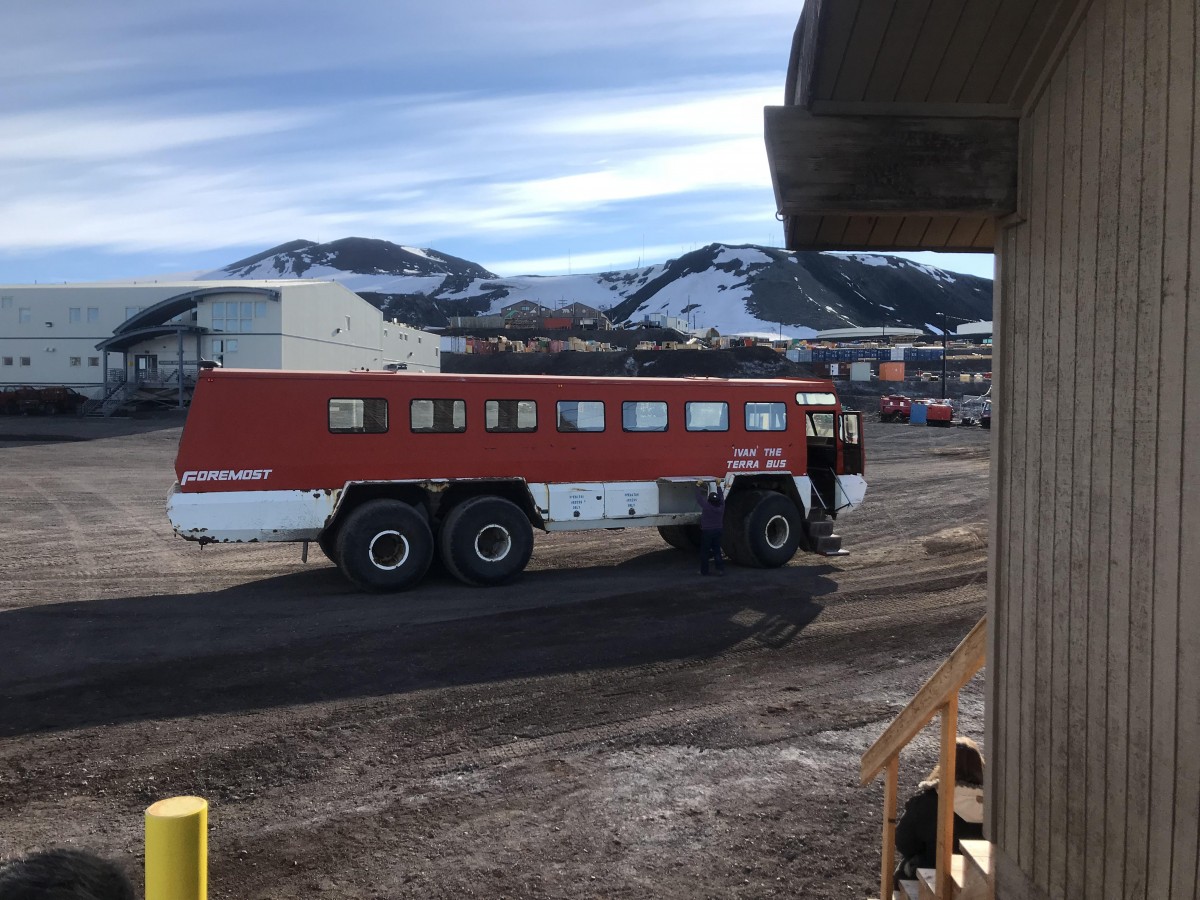 It's still only 0800. I hate being too early, but I walk over to the chalet anyways. A few people are hanging around, and Ivan the Terrabus is hanging out infront of the chalet. Soon, everyone starts to arrive. Kelly opens up Ivan, it's fold down stairs dropping down into the volcanic soil. It's my first time on Ivan, one of the most iconic vehicles on all of Antartica. It's an old Canadian vehicle, the inside is all wood paneling with seats on both sides and a narrow aisle. It's kind of like a school bus, but with like 6 giant tires and sitting 5 feet off the ground.
"Runners get aboard the bus, cyclists go ahead and bike over to Mile 1″.
People I know, and people I haven't met yet are all seated around me. I'm sharing a seat with Tate, my neighbor from next door, and my buddy Joel is seated behind me. I talk about snowboarding a little bit, but mainly just stare out the window as we make our way to the Mile 1 marker on the ice road. Ivan groans up the steep and dusty hill that leads us up and then down again to"the transition" where Ross Island meets the Ross Ice Shelf, which is nearly 1000 feet thick. It's upon this ice shelf that we will run our marathon–the same ice shelf that we land our planes on. It's the first piece of the continent you set foot on.
It's a beautiful day, almost 34 degrees fahrenheit. You couldn't ask for better weather. There's a pee line forming. Everyone's gotta get a tinkle in before starting. The toilet is essentially a plastic bucket with a screw on lid, inside of a narrow little standing up tent thing. I pee and then walk around a bit. Everyone is congregating around the starting line, and I'm just trying to warm up and stay active. I'm not wearing much clothing. I do some handstands.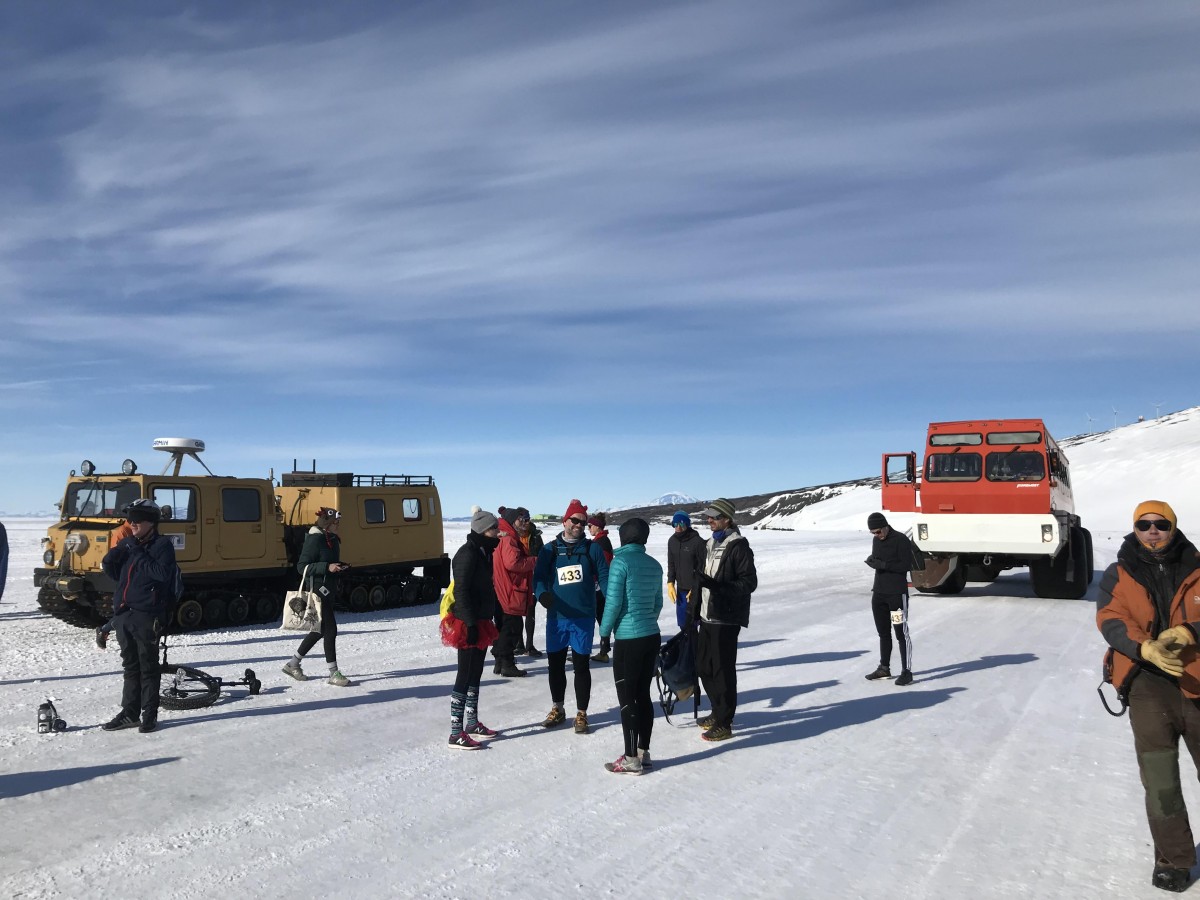 It doesn't take long, and soon everyone is lining up. Bikes get to go first. "Three, two, one" <honk!>. The sound of Ivan's horn is the signal to start running. 60 seconds go by, and all us runners line up. "Three, two, one" <honk>! And we are off!
I'm trying not to get too swept up in the running, so I keep a nice conservative pace. There's lots of snowmobiles on the side of the trail, and lots of people taking pictures. It's pretty dang awesome. I'm starting to get pretty hot, and after about mile 4 you see a lot of layers shedding off. I unzip my windbreaker and my hoodie and later on take off my toque.
My pace naturally seems to sync up with Joel's, and we get to the 6.55 mile turn-around point. All of the volunteers there are cheering us on. There's beer, whiskey, music, and food. This one dude is up there grillin' burgers and brats. It's a fuckin' party! We hang out for about 10 minutes, eating some carbs and drinking some water. Nice, 50% done. I'm feeling good. Really good.
I take a shot and eat a coconut energy bar. Time to finish this off. We start running back, Joel and I keeping a good pace. Around Mile 10 this girl pulls over to the side of the road and bends over and does some stretches–or so I thought. She pops back up with a trumpet and starts playing some tunes for the runners! I run by pumping my fist to an "Eye of the Tiger" trumpet solo! Hell yeah.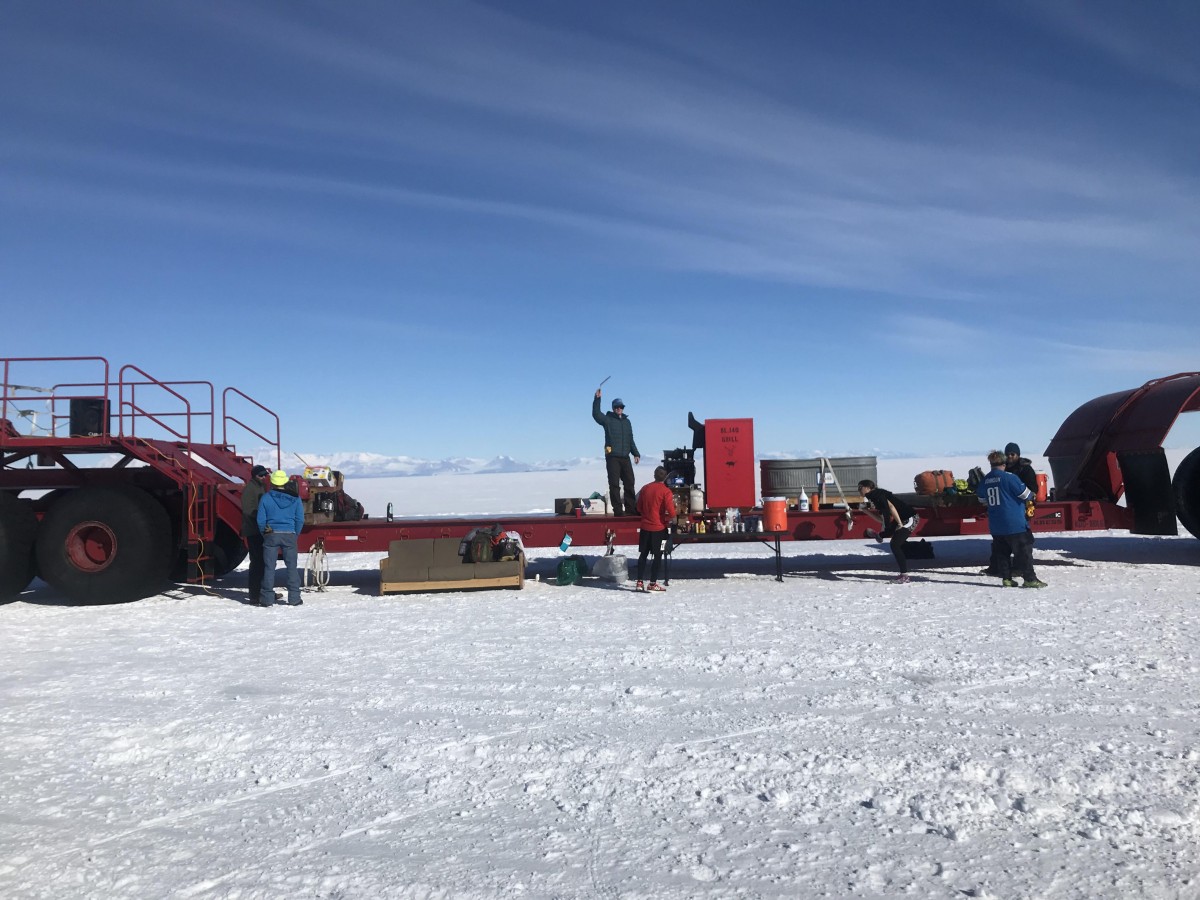 At about mile 8 I decide that I'm going all-in and running the full marathon. Fuck it. I've only ever run eight to nine miles, and I'm already past that. Let's push it. I get to the half-marathon point, keeping a good pace with Joel. I'm feeling great. "You gonna do the full?" says Joel. "Hell yeah brother!" I say. We have a snack and then get moving. I'm smiling ear to ear feeling great that I'm about to do a marathon. The 6.55 miles back to the turn-around started to get a little tough around mile 17. I start slowing down, my legs starting to hate me. Joel disappears off into the horizon. Soon, he's on his way back and he high fives me. I'm pretty much limping along. My knee is killing my by the time I hit the turnaround, people still cheering me on.
Logic would dictate throwing the towel in, but I didn't wanna be a little pussy about it. I took a couple shots of Dewar's and ate a burger and some more carbs. Slammed some waters. I went into the warm-up shack and got hyped up and said "No ones quittin!" I took off, and kept up a nice pace. After a mile the pain was tremendous–I couldn't even run anymore. I did a lot of walking and then trying to run again. No bueno–damn.
I see a hagglund going to the turnaround, and I figure if I'm still walking by the time it turns around that I should hop in. I try to get the train moving again a few times, but it just was met with a lot of pain. Bummer. I flag down the hag when it comes near, and the Kiwis stop and invite me in. "We got room on the hot seat for ya" they say. I sit cross legged in the 'middle seat' of the hagglund which is just a raised center portion that runs all the way along the middle of the vehicle. The transmission is obviously beneath, and it's nice and warm. They have a bunch of chocolate and treats, and I dig in. I ask for a beer, but they're all of of Speights. The girl sitting beside me hands me hers–aww yeah.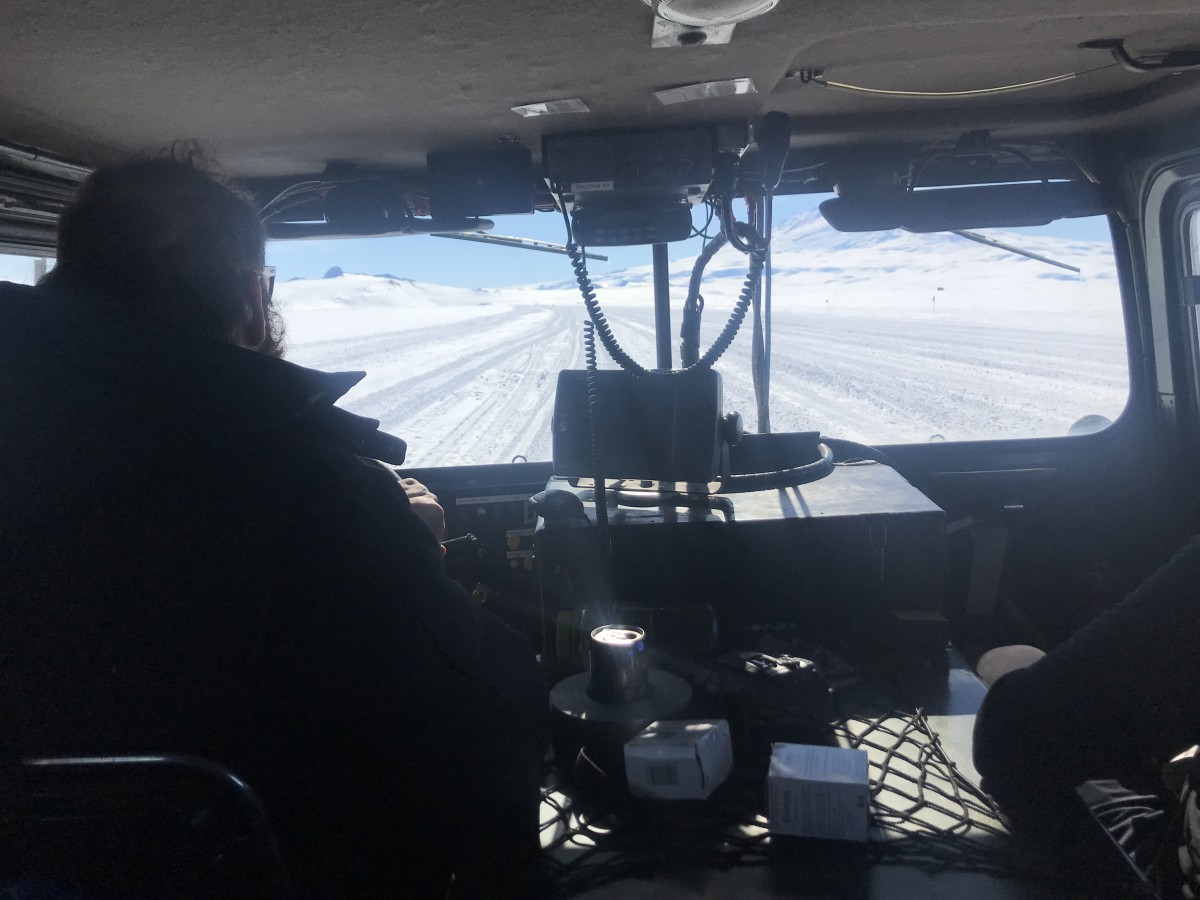 I ride back into town in style in this beast of a machine, getting some videos popping out of the hatch. These things are bad ass. We pick up some more passengers who sit in the back trailer unit, and then we get dropped off at the hill. We load up in a nice warm van and cruise into town. We get dropped off at Derelict Junction. "Could I get dropped off on the third floor of 209?" jokes some dude.
I take a 30 minute shower and then lay down a bit. Then I head over to the Hut 10 runners party. There's a big tub of ice water out-front and I watch a few people jump in. God DAMN that looks cold. I say fuck it and don't do it. I drink a few beers, and then someone has to bright idea of taking the camping chairs out to the deck and just hanging out.
We set up, and it's just six of us sitting out on the porch staring at those beautiful Antarctic mountains. Mt. Discovery, The Royal Society, and about 100 seals on the ice hanging out by the ice crack.  We sit in silence for 20 minutes at one point, just enjoying nature. How sweet is that.
I couldn't even get out of bed the next morning.