My stomach growls as I sit here idly watching the new Blade Runner. I'm sitting atop that plush couch, plugged into one of the three internet connections in the lounge. This is one of the few places in town where you can plug your laptop in to get some Internet. I've got on my MacIsaac Hall sweatpants (Go assholes) and a gray underarmor shirt.
I'm wearing chucks with no socks on–you can't go in the galley with flipflops and bare feet and my flops were still wet from the shower I just took–god that felt good. We just spent most of the day out snowboarding at the Kiwi Ski Hill. Here's how that went:
***
I set an alarm for 10:00, intending to make good of an invite to join some skiiers from the night before. I don't really like setting an alarm on the only day off I get a week, but what the hell–I like snowboarding. I snoozed it twice, and then decided I ought to roll out of bed and head down to brunch to see if I can catch these guys. They were just leaving and I didn't expect to make it with them. My knee was still sore from running the 21 miles in my marathon attempt, so it was kind of a deliberate attempt to not go.
I made loose plans to go see the icebreaker with John and Ben, but I knocked on Joel's door–just across the hall from Ben's room. Joel answers, backpack with skiis on it and shit looking pretty damn ready to rock. "Ah I was gonna ask if you got room for one more still on the ski trip, but it looks like you're all ready to go…" I say, asking if I can still come in a real Canadian fashion.
"Well if you can get ready quick, it's no problem man".
"OK. give me five minutes".
I quickly go to my room where my roommate is still snoozing, turning on my lamp to provide a -little- light so I can see what I'm doing.
Quickly quickly, I pack two IPAs in my backpack, and my camera and stuff is already in there from the night before–good enough. I quickly put on my snowboarding boots and grab a sweater and a jacket. I walk down the steps towards the front lobby and handwashing area of 155 and see Joel coming up the steps to see if I'm ready yet–awesome. We all walk out to the truck.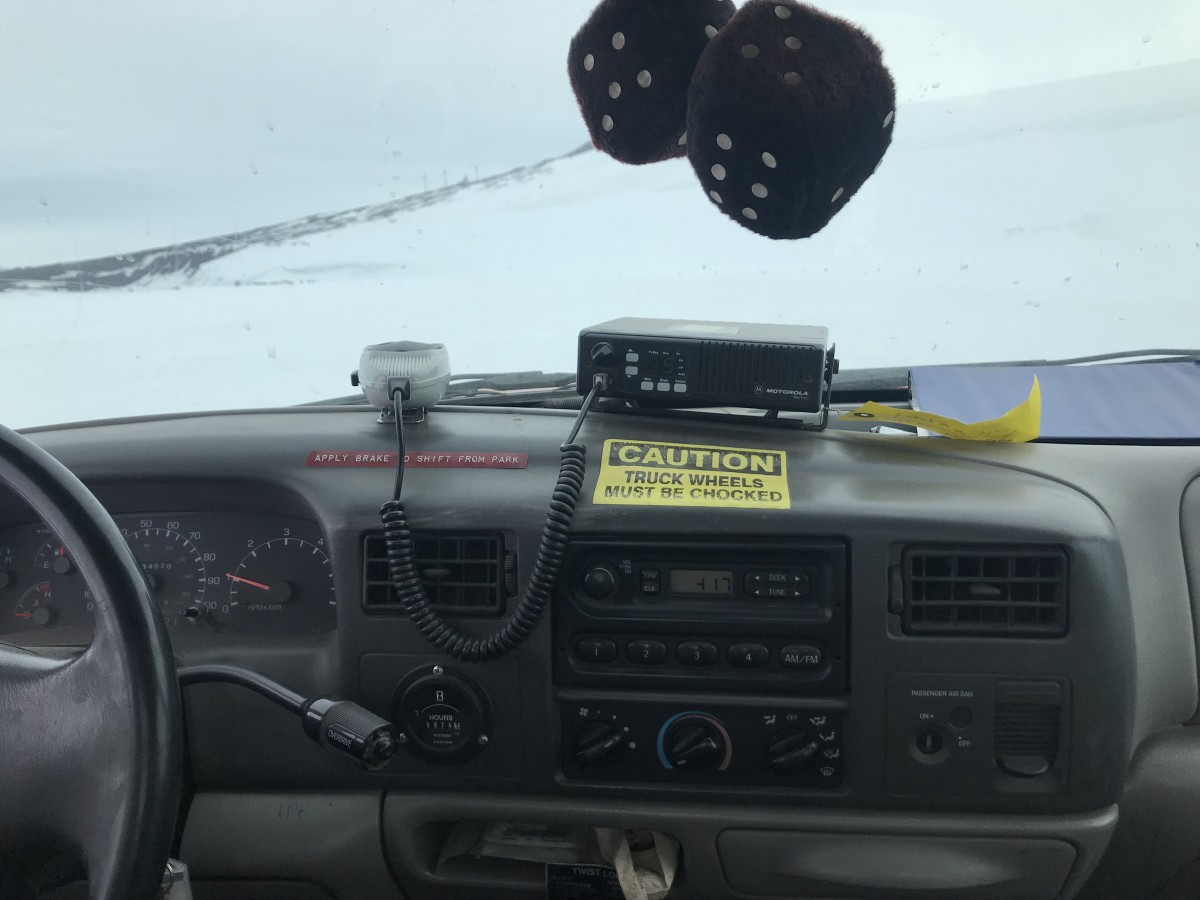 The plan is as follows. We load up the truck, and drive as close as we can to the ski hill. We'll just hike up the Kiwi ski hill and snowboard/ski down and do this until we get bored of it. If we are lucky, the Kiwis will show up and set up the rope-tow. But it's kind of an invite only thing, but if they're around and feeling cool maybe they'll let us use it. So we leave the base, and drive over the transition and onto the snow road. We get to the access road for the ski hill–about a mile and a half long. "Looks like just tracks" says someone, and they're right. Only tracked vehicles have tried to come down this way. Our driver shifts into 4Lo and we edge up a bit on the snow and go about a foot…not looking good. We nearly got stuck there. We reverse back out onto the snow road. We're walking in.
It's about a 45 minute walk on the snow road. We get on crunching down that way, and about 2/3 of the way there we hear a vehicle coming up on us. It's a Kiwi hagglund and it rolls up past us, a bunch of costumed people waving at us. I see someone I know as well. "They're definitely going skiing, they have costumes!" I say. A few minutes later and a second hagglund with costumed occupants rolls up. Aww yeah, looks like they are going to run their ski lift!
We get to the ski area, and find that the Kiwis already have opened up their storage container and have set up some plastic chairs in the snow, facing uphill. A guy is carrying the rope up the hill, and rap music is piping out of the container. Everyone is costumed and having a fun time–it all looks pretty awesome. "What's up guys, we were just gonna do a few runs" says one of us. "Yeh! Come join us guys!" says this Kiwi girl wearing a olive drab flight suit and sunglasses.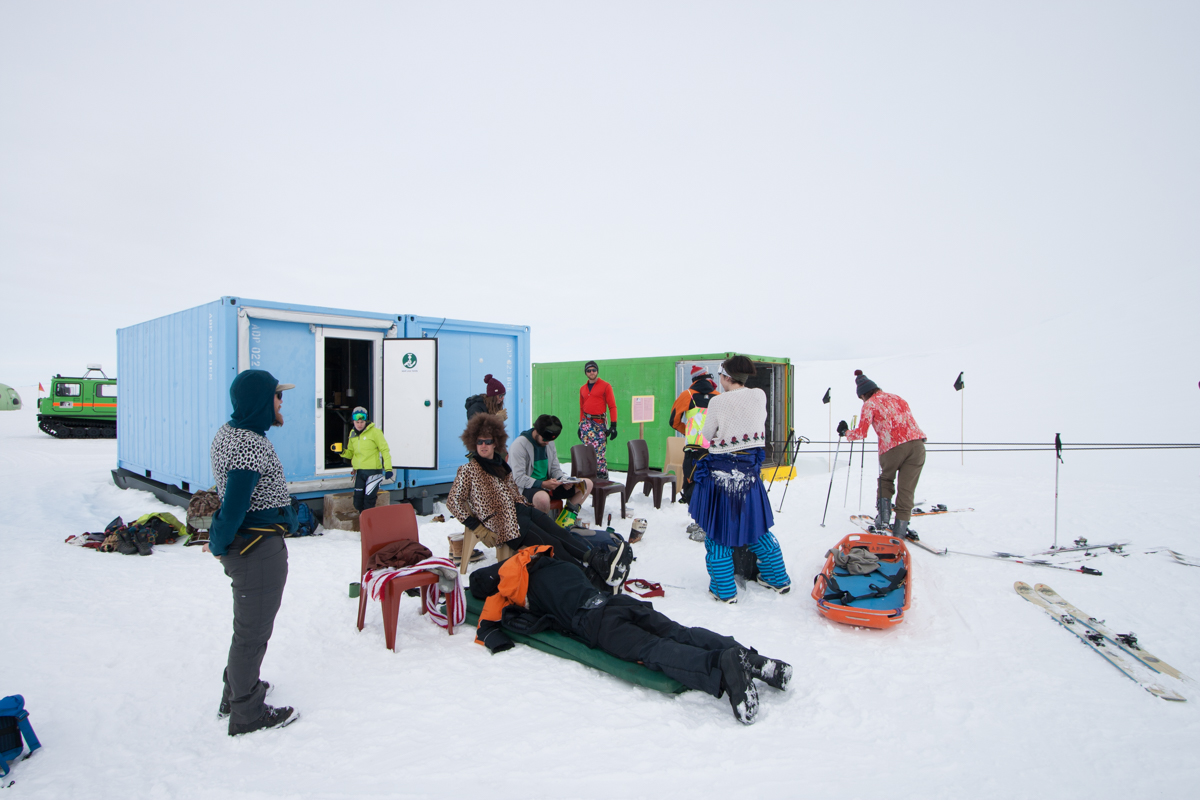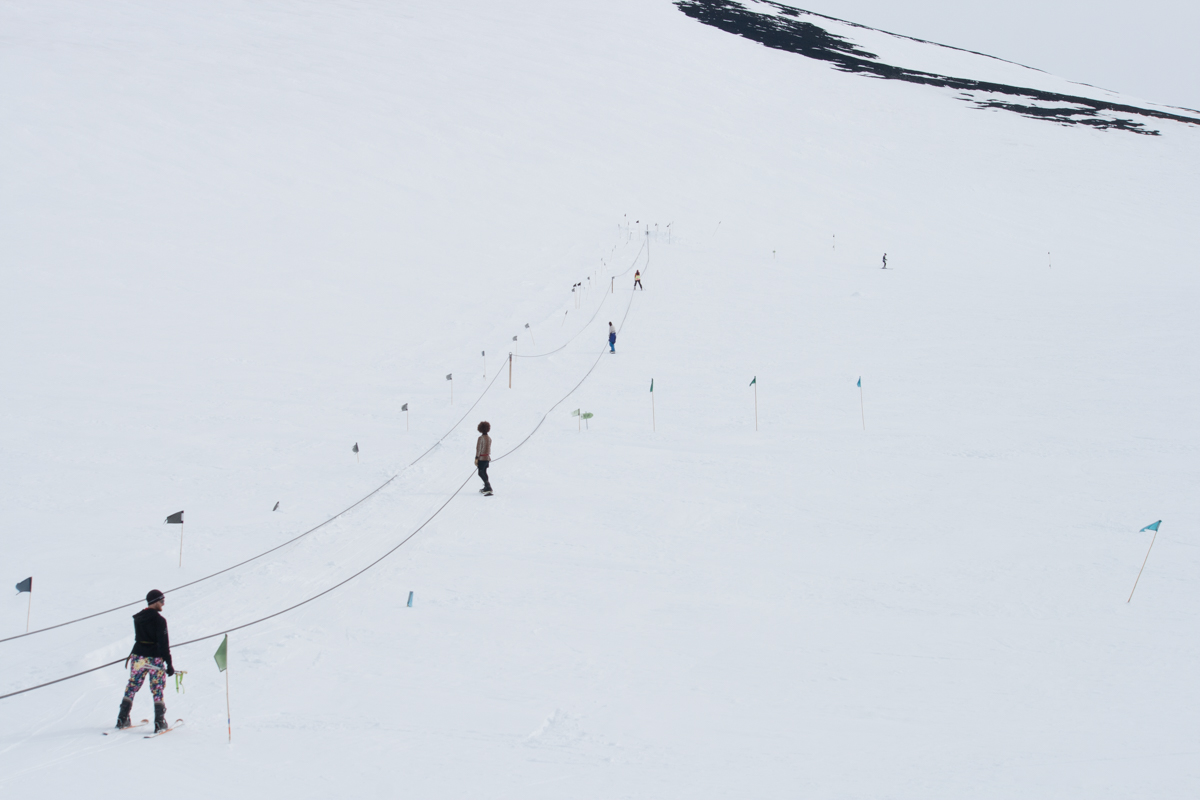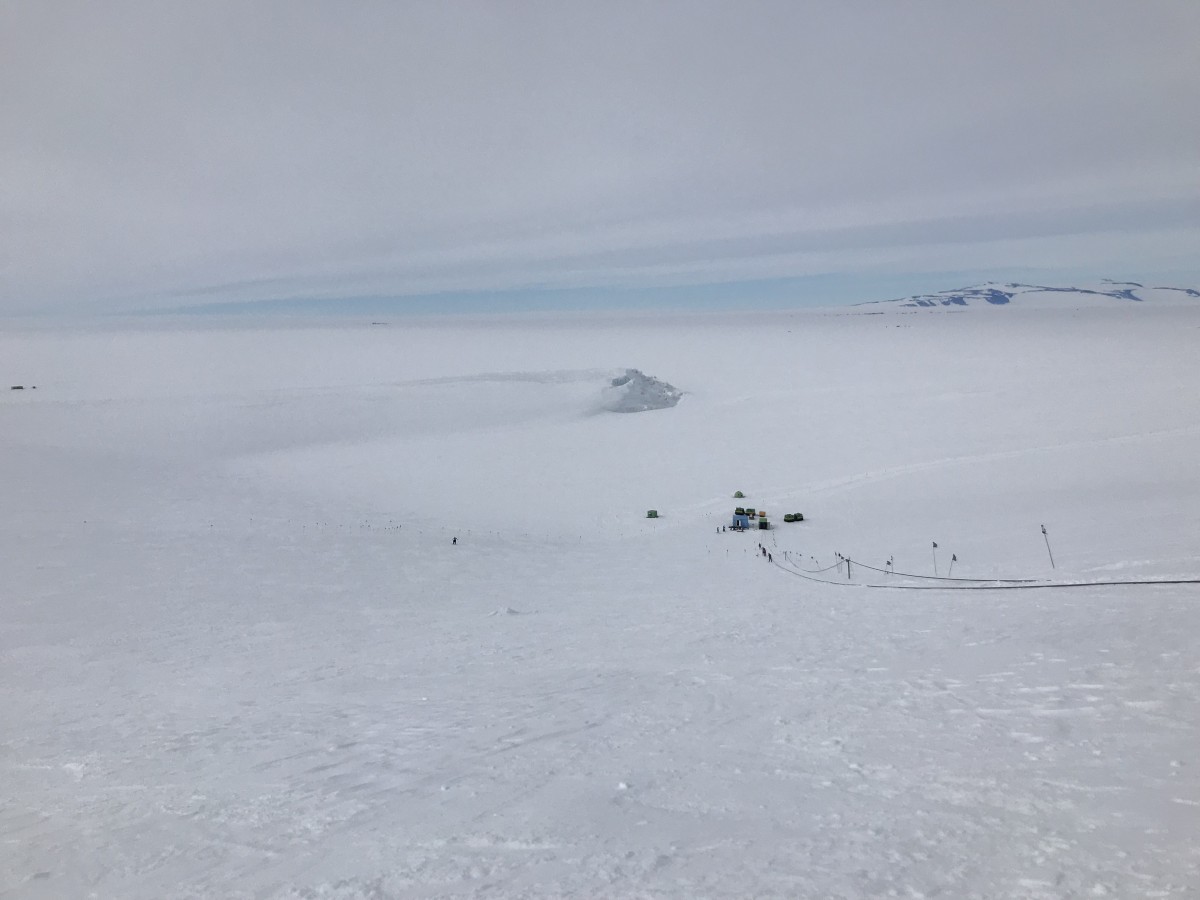 Sweet.
"You guys didn't bring your lift tickets! The ticket is to wear a costume!" they say to us. A minute later a girl wearing a blue pirate dress over her jacket brings us some costumes. "Here's your lift tickets!" Joel takes these crazy floral pants, Mike has a black and white animal pattern blouse–which we jokingly call Antarctic Camo–and Ryan has a crazy paisley shirt. I put on a woolen christmas elf costume. It looks like we're all sorted now. They show us where to grab some 'nutcrackers' so that we can use the rope tow, and then they give us a safety briefing
My knee is still kind of sore, but this is too cool to pass up. I've never used a 'nutcracker' type lift, but I get the hang of it pretty quickly. I ride up goofy the first time, grabbing the rope and then flipping the nutcracker shut on the rope pull, and up I go. I'm a little sore after riding, my knee kind of angry. I hang out and a drink a beer for like 30 minutes, just chillin.
There's a potpourri of costumes here. One guy has a green wig on and a green tail. "I'm a mermaid, I swam in with the ship" he says, referring the icebreaker that has just crunched its way into McMurdo Sound from the ice edge–slowly and forcefully. There's a man with a giant afro wig and leopard skin blazer. A girl with a New Zealand bike jersey, a dude with shorts and a black russian fur hat. A dude with a black and white vertical striped suit. We all looked cool as fuck.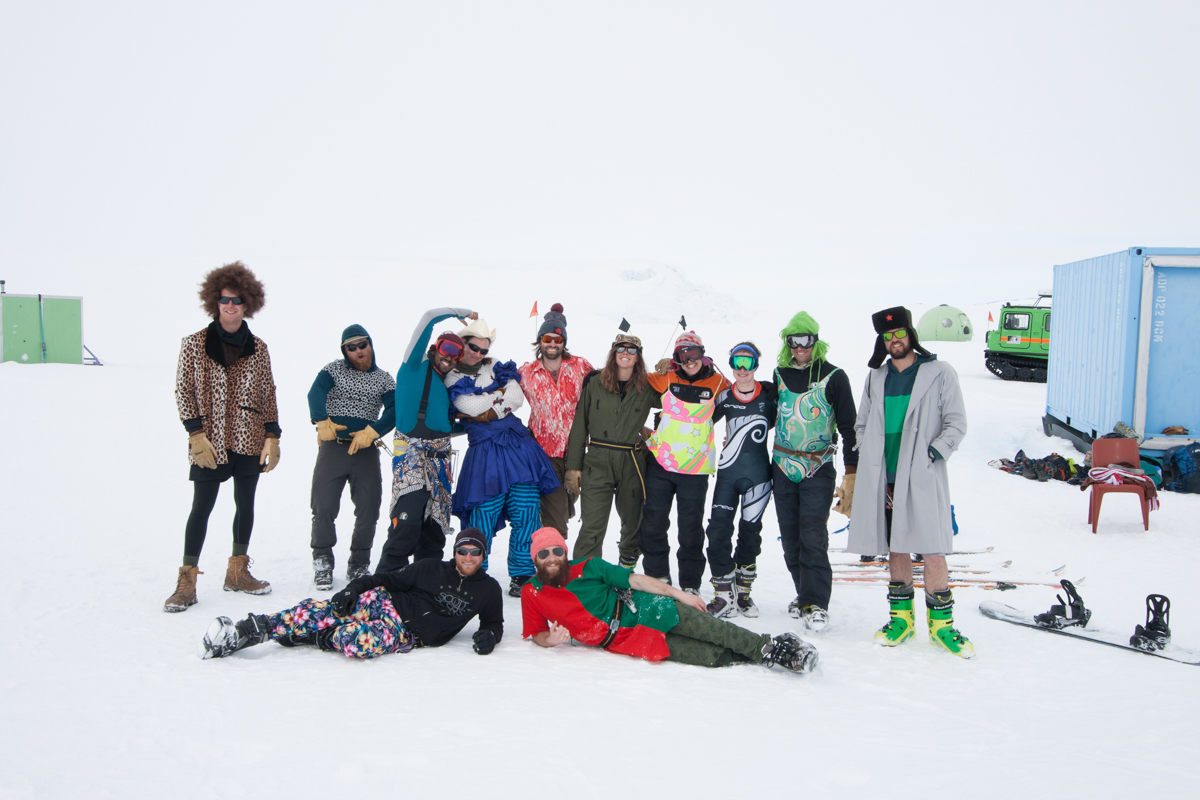 My knee is feeling better and I've got a little beer in me. I decide to try riding up regular, and it feels way better on my knee. I only make it up halfway before falling off, you aren't supposed to ride up facing backwards. I try a few more times and I just starting riding it facing the other way with my back to the rope coming back on the return. Not the safest, but more practical. When I get to the top I just drop the rope and then lay down and throw the rope over me while I barrel roll underneath. It took me a few tries, but I eventually figured out a good system.
It was great, there was a little kicker and I got some air. I 'sent it' down the hill mainly. It was cool. Ryan could not get alpine skis out of gear issue, so he was trying out telemark skis for the first time. It was not going so well. Eventually he was using other peoples skis with this pair of ski boots he found in some building while he was working. With his scavenged boots and borrowing of idle skis, we felt it was appropriate to call him the "The Ski Skua".
The Kiwi container was pretty cool. The inside was like a bar, with bar stools. There was a fridge and a stovetop. It was really cozy, and they had a thing full of hot water. "D'ya guys want some Tea or Coffee? We've got some hot water in here" said Kat the flightsuit Kiwi. She is a glacier guide when not on the ice. The hospitality shown by the Kiwis was awesome, and I opted for some instant coffee.
The afternoon was pretty chill, mainly lots of snowboarding and hanging out. I drank the other beer as well. We all hung out and snowboarded until about 1600. Some people we knew snowboarded down the hill from Castle Rock and saw us hanging out. The Kiwis were going to give us a ride. We were all loading up into one of the green hagglunds, and the Kiwis offered the rest of the Americans that had just shown up a ride. We all piled into the bench seats in the back trailer of the hagglund, and loaded our gear in their gear trailer. Man, these Kiwis know how to do it!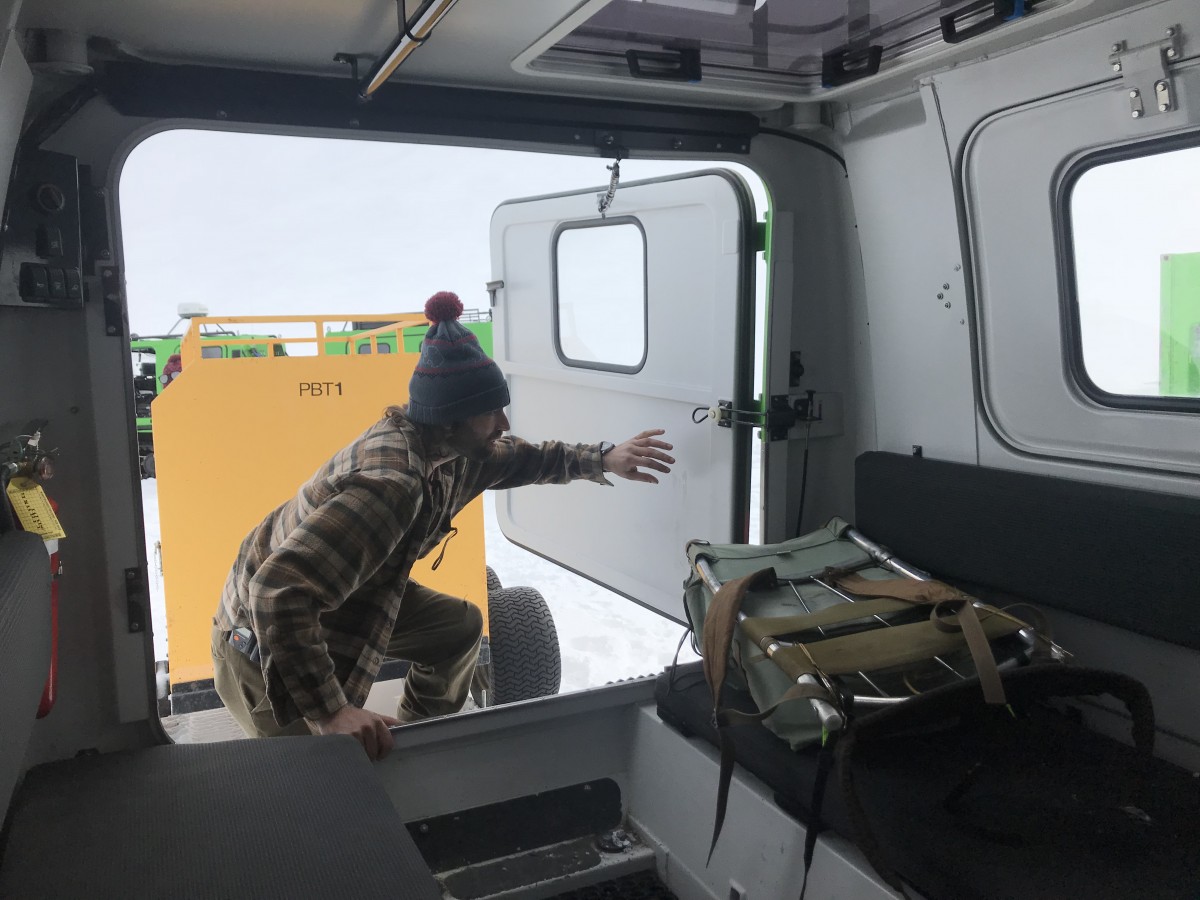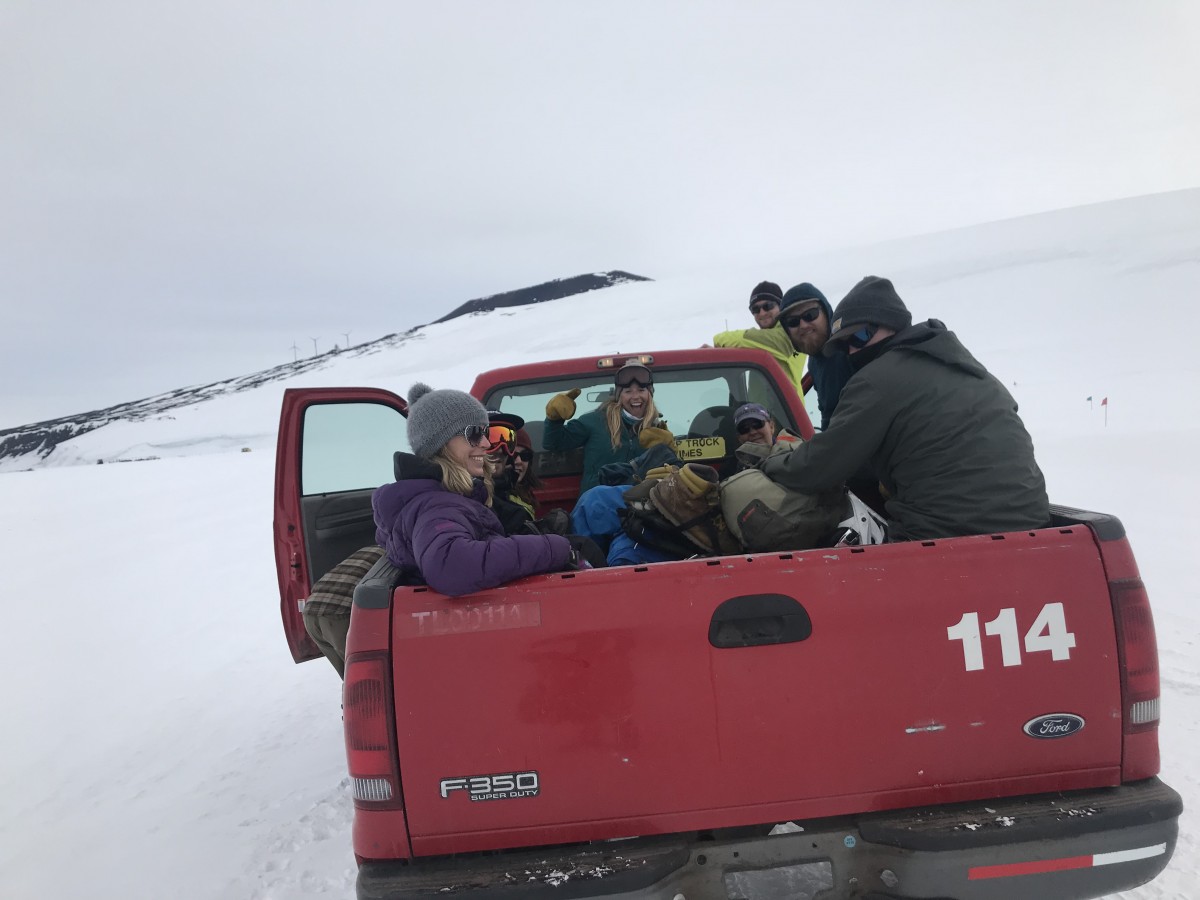 We got a ride to the snow road where our truck was. We passed another American skiier on the hagglund ride back. We drove here with 4 and now we had 10. We loaded everyone up into the truck. 3 in the front, 7 in the back with all our gear. We rode back nice and slow back to the base. Ironically, we passed Ivan the Terrabus (capacity, 50?) which had zero passengers, while we had 10. It's not often you have more passengers than Ivan.
We got back around 1630. Too early for dinner, but early enough to take a hot shower and put on some sweatpants. And thats just what I did.